EasyContent vs Trello
Trello is a collaboration platform that lacks something vital for large scale content production projects involving multiple people.
Sure, it's an excellent platform for managing your team and projects. It lets you see what's being worked on and who's working on what. It allows you to create a task and assign it to someone, or have it be claimed by someone else who's willing to work on it.
There is one problem though, especially for large scale content production teams spewing out content at scale: there's no native content editor on Trello.
Trello is made to cater to any and all types of project and team management needs. It's a jack of all trades and master of none.
Yes, it can work for you if you have multiple teams working on different types of different projects, but if you're focusing on producing content collaboratively, Trello is not the best choice.
Platform Made for Collaborative Content Production
EasyContent has all the features of Trello plus a native content editor, content templates, WordPress integration, and more. It has features made to help teams focus on quickly producing quality content.
| | | |
| --- | --- | --- |
| | EasyContent | Trello |
| Customizable content templates | Yes | No |
| Customizable workflows | Yes | No* |
| Editorial calendar | Yes | No* |
| Inline comments | Yes | No |
| Task deadlines | Yes | Yes |
| Revisions | Yes | No |
| Native WordPress integration | Yes | No |
| Task assignment | Yes | Yes |
| Custom user roles and permissions | Yes | Yes |
| File Storage | Yes | No |
*Available as a "power-up" a.k.a. plugin or extension
The Importance of a Native Content Editor
In Trello, you attach a document to a card, but there's no way to directly edit or update it.
Every time you or someone else updates the said document, it needs to be downloaded, edited locally, and then re-uploaded again. It's common to have multiple files with slightly different names such as "SEO_tactics.docx", "SEO_tactics_v1.docx", "SEO_tactics_edit_final.docx", etc.
This is messy.
With EasyContent, you don't need to do this whenever a document needs editing or update. Our native content editor, which is based on TinyMCE, will handle everything for you. It also has a built-in "revisions" feature, allowing you to compare changes between the current and former versions of an article or to restore an article to a previous version easily.
A Content Editor You're Familiar With
If you're worried about learning a brand new content editor from scratch, then you're worrying for naught.
Our editor uses TinyMCE with just a little bit of customization. If you've used Microsoft Word or WordPress's classic editor before (or any web-based text editor using TinyMCE), then you're already familiar with, or probably even mastered, our content editor.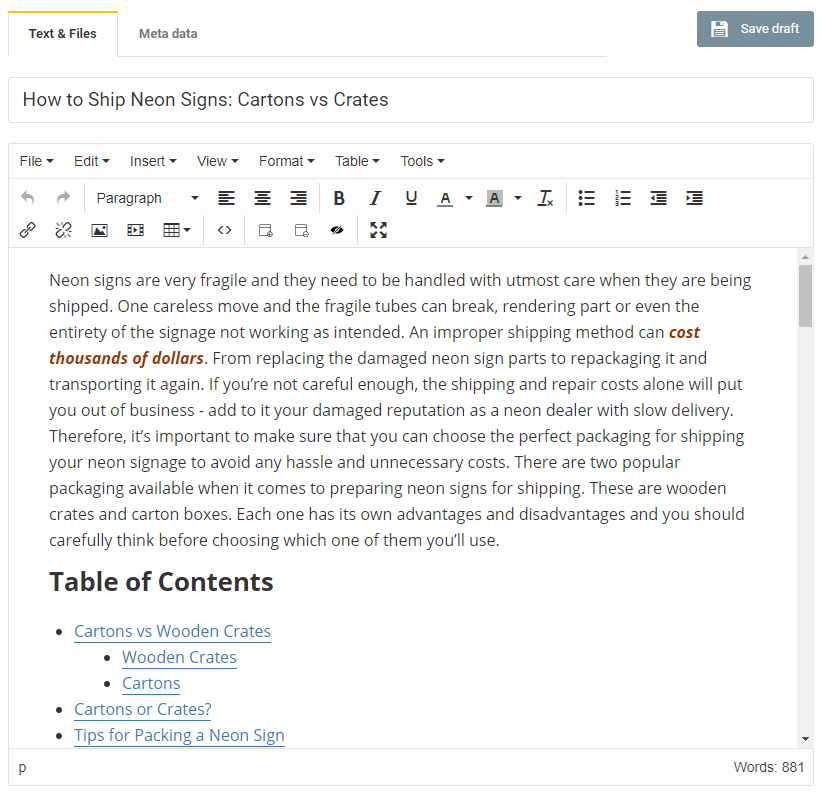 What About Google Docs?
You can argue that you can instead use Google Docs to write your content and link it to a card in Trello. That works, but then you'd have to use two different platforms to accomplish a single goal. Moreover, Google Docs is nothing more than a text editor.
On EasyContent, you can take advantage of content templates, built-in to our editor, allowing you to define clear goals for your content.
Check out EasyContent vs Google Docs to find out why using GDocs isn't the best option for your team.
Advanced Content Workflow
In Trello, you will need to create lists representing different workflow statuses or phases and use cards to represent a task. You then move a card between lists when it moves on to the next phase. All of this needs to be done manually. Sometimes you'd even forget to move a card under the appropriate list, which delays progress.
In EasyContent, whenever an item is ready for the next phase, all it takes is a click of a button. Say you have an item filed under the writing status, when it's ready to be reviewed, simply click a button and it'll be filed under the review status (or whatever status follows it -- all customizable by you) instantly and automatically.
Publish to WordPress with One Click
Using WordPress? Then you know the pain of having to copy and paste your content from an external editor and then downloading its media files and then uploading it to your site. This is a massive time sink.
On EasyContent, once an item is ready for publishing, you don't need to do that at all. Simply download the official EasyContent WordPress plugin, install it to your site, connect your EasyContent account, set it up, and you're ready to automatically publish your content straight from your EasyContent dashboard without having to login into your WordPress site. Yes, even images are automatically uploaded.
Flexible Content Templates
You start with a blank slate when using Trello with Google Docs, or Microsoft Word. This introduces a level of confusion and vagueness as to what the content should look like, its tone, etc.
With EasyContent's content templates, you can define clear goals and requirements for your content, speeding up production, and improving quality.
One Platform for All Your Needs
With Trello, you'll need to use multiple external tools for collaborative content production. You'll need to pair a content editor, email, file storage host, calendar, spreadsheet, and possibly even more.
On EasyContent, everything you need is in one platform, all tightly integrated, to let your team focus on what it needs to do best: produce high-quality content at scale.
Bring your team together and start producing great content at scale right now!